TRAINING IN RIGA AND JOB PLACEMENT IN CYPRUS
FOR A PROSPEROUS LIFELONG HOSPITALITY CAREER
***************
United Hospitality Institute in cooperation with Columbia Restaurants, are looking for young people to start a prosperous career in our luxury hotels and restaurants in Cyprus, through our training programs which will start on the 23 April 2018 in Riga, Latvia.
Positions and Trainings Programs available for:
– Waiters –
– Housekeeping –
– Bartending –
Training and other Fees: €635
(tutition amount to be deducted from the first wages)
Columbia Restaurants offer monthly salaries up to €1,250 and more
Enrolment and Employment Agreements will be offered during the interviews at CSM Baltija , Columbia Shipmanagement Office in Riga, Latvia (20, Katrinas Dambis str., Riga, www.csmlv.com).
Phone +371 67325007
Applicants should send their CV to: info@uhinstitute.com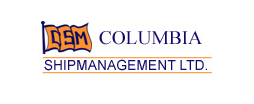 We are looking to recruit a Technical Superintendent for our office in Limassol.
Technical Superintendent (Tanker)
The successful candidate will be reporting to the Technical Fleet Manager and will have the following responsibilities:
• Ensuring the safe operation of ships allocated to him;
• Implementing and monitoring compliance with the Company's Management System relevant to the shipboard and departmental activities;
• Monitoring performance, technical and operational conditions of ships allocated to him;
• Ensuring prudent financial management;
• Arranging for repairs and dry dockings;
• Ensuring that the ships are fully certified according to international standards and requirements;
• Preparing technical reports to owners in compliance with the management agreement;
• Encouraging and developing a strong safety culture and environmental awareness on board ships assigned to him;
• Providing support to the shipboard management in respect of technical and operational matters.
Candidate Profile
• A marine degree from a university, with a minimum of three (3) years experience onboard ships or in the shipping industry, or holding a Chiefs Engineer's license with a minimum of two (2) years sea service as a Chief Engineer, or having been in a position of Technical Superintendent with another shipping company for a minimum of two years.
• Good leadership and communication skills, as well the ability to work within a team;
• Good command of the English language;
• Good knowledge of the marine industry and applicable Rules and Regulations;
• Knowledge about purchasing and budget cost control.
If you are interested for the above position, please send your CV to columbia@csmlv.com.
All applications will be treated in the strictest confidence.